Guidelines and Forms of Investments
As a link between public and private organizations, the Strategic Investment Fund (SIF) helps projects meet collective goals and objectives and to respond to a wide variety of stakeholder needs and interests. It offers creative financing terms and seeks to share in the returns when projects are successful.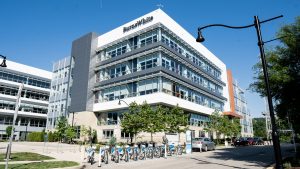 Investment by SIF may take the form of mortgages, participating mortgages, loan guarantees, letters of credit, revenue participation certificates, equity investments or a combination. SIF does not seek management control over the projects in which it invests.
Geographic Focus: All SIF investments are to be made in projects that are in the southwestern Pennsylvania region, which includes the following 12 counties: Allegheny, Armstrong, Beaver, Butler, Fayette, Greene, Indiana, Lawrence, Mercer, Somerset, Washington and Westmoreland.
Risk Tolerance: SIF is willing to accept higher risk than what had been the case in recent years, with potentially longer return horizons and lower expected returns, but in a manner consistent with its governing instruments, including that projects must present a reasonable expectation of return of capital.
Allowable project types include but are not limited to:
Commercial and industrial real estate within the 12-county region
Office to residential conversion
Multifamily residential
New technology development
Business attraction, retention, expansion, and creation
Brownfield redevelopment
Mixed-use
Tenant fit-out
Strategic site acquisition
Speculative building and site development
Financing of intermediaries
Eligible uses of funds include but are not limited to:
Acquisition of real property (land and structures)
Bridge financing for grant sources
Land development/infrastructure
Rehabilitation and/or new construction
Soft costs
FF&E
Working capital
Terms of Loan of Investment
Borrower must be a domestic entity registered to do business in the Commonwealth of Pennsylvania
Loan Size
Minimum: $500,000
Maximum: $8,000,000
Equity
Borrowers may be required to have invested equity in the form of cash or other assets of at least 10% of the Total Project Cost.
Facility Type
Senior Debt
Subordinate Debt
Bridge Debt
Equity Investment
Interest Rate
Interest rate will be determined on a case-by-case basis depending on the following factors:
Length of term
Strength of Borrower and/or Guarantor
Collateral and collateral position
Repayment terms
Community impact
Facility type
Term
Loan Terms
Minimum loan term 12 months
Maximum loan term 10 years
Maximum interest only/draw period of 36 months. Actual interest only/draw period will be determined based on construction and lease-up timelines.
Equity Terms
An equity interest should be held for a period of no fewer than five years and no more than 10 years.
Amortization
The amortization of the facility can range from fully amortizing over the term of the loan to 25 years.
Closing Fee
The closing fee is determined by the aggregate approved amount as follows:
1% of the aggregate approved amount of $2,000,000 or more.
1.5% of the aggregate approved amount between $1,000,000 and $1,999,999.
2% of the aggregate approved amount up to $999,999.
Expenses
Borrower is responsible for the costs of outside legal representation for lender, recording, filing, appraisal and other third-party fees associated with loan processing, lien perfection, lien release and any and all fees related to construction draw(s).
The fund manager of the Strategic Investment Fund, Regional Industrial Development Corporation (RIDC), identifies projects, performs underwriting, recommends investments to the SIF Board and provides oversight of investments. If you're interested in a SIF loan, fill out this Intake Form.